A day in the life: Zip borrower visit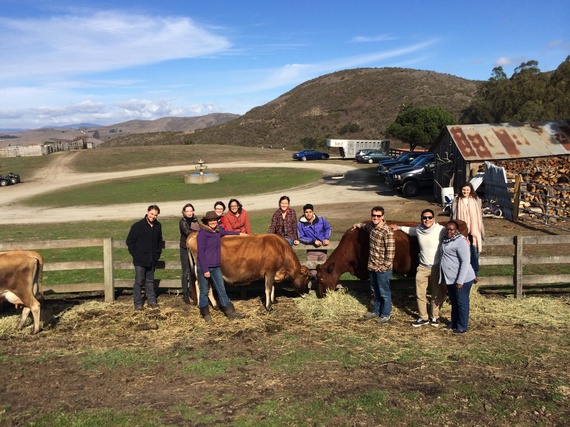 Last month, the Kiva Zip Team made a house call to one of our current borrowers, Doniga, at her ranch. Nestled in the pristine hills overlooking the beach in Half Moon Bay, is the site of Markegard Family Grass Fed, LLC- an agricultural business owned and operated by Doniga and her husband, Eric- who happens to be a 6th generation cattle rancher. The land is about a 1000 acres and is leased from the regional park. The mission of their company is to provide communities in the San Mateo County with pastured, locally born, raised and processed meat and poultry products. All the cows, including the 3 used for their milk, are on a strict, grain-free and grass fed diet. The two main constraints for farmers like them are access to land and access to capital, the second of which Kiva Zip hopes to correct.
Despite the romantic and glamorously rugged nature of their cattle-rancher and farming lives, we were quick to learn that this was only about passion for them, and not the money. Living on a month-to-month basis, they turned to Kiva Zip's 0% interest rate loan as a way to strengthen their business venture, primarily through improving their conservation practices. They need to purchase and install waterlines to gravity feed water to the troughs on their land, which can save costs, increase the efficiency of grazing practices and lead to a weight gain in their cattle, not to mention building soil that retains water and preventing runoff to the ocean.
Endorsed by the TomKat Ranch for a loan of $5000, as I write this- Doniga has fully funded her loan and will begin the process of paying back throughout the next 3 months. This loan will go a long way in helping them through this drought, as well as setting a precedent for Kiva Zip's efforts in helping the agricultural community increase capacity and sustainability against the odds.