An encouraging start to the year
It's been a really encouraging start to the year on the Kiva Zip team, and we wanted to share the good news with you, our community, who made it happen!
We think about three primary measures of growth on the lender-facing side of Kiva Zip – the value of loan 'shares' purchased, dollars deposited by lenders (as opposed to existing credit that is re-lent), and the number of lenders making loans.
1) Loan 'shares' purchased
March 2014 was our biggest ever month for shares purchased on Kiva Zip. You bought $295,920 of shares, slightly higher than the $286,170 purchased in July 2013, when we cross-promoted Kiva Zip on the Kiva.org homepage for the first time. (This cross-promotion explains the significant spike in all three of the charts below). The dollars of shares purchased in the first quarter of 2014, represented a 74% increase on the fourth quarter of 2014 – a really exciting surge!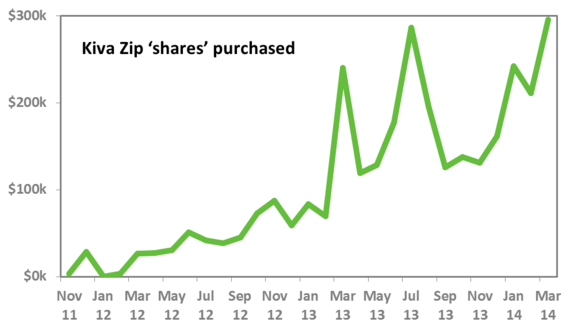 2) Dollars deposited
The chart of dollars deposited reflects the dollars of shares purchased, but the growth is even emphatic. This is because a higher proportion of the July 2013 spike in shares purchased represented existing lenders relending their Kiva.org balances; whereas more of the growth over the last three months has come from new lenders depositing money in Kiva Zip for the first time.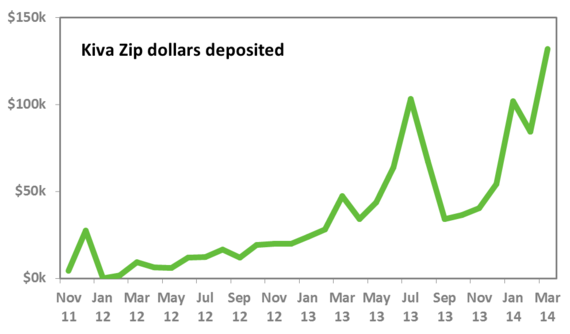 3) Number of lenders making loans
3,894 lenders made a loan on Kiva Zip in March 2014, almost as high as the 4,524 that made a loan in July 2013. 7,670 unique lenders made a loan in the first quarter of 2014, almost as four times as many as in the first quarter of 2013, and 34 times as many as in the first quarter of 2012!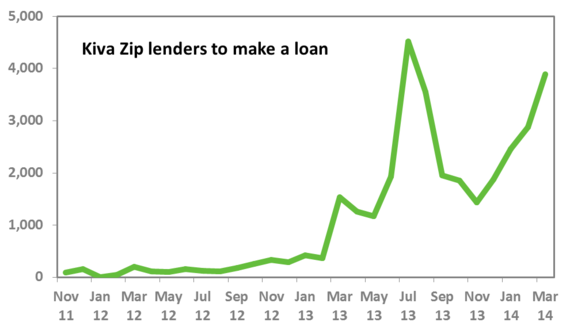 What explains this growth?
We believe there are four principal factors explaining the positive progress highlighted above:
1) Increased supply of loans. Both in the United States and Kenya, we have seen a tremendous surge in borrowers interested in applying for Kiva Zip loans over the last few months. As lenders read about, and engage with, more entrepreneurs on both sides of the Atlantic, they are being inspired to increase their lending on Kiva Zip.
2) The 'Private Fundraising Period' for U.S. loans. At the start of 2014, we instituted a new policy requiring every U.S. borrower to recruit 15 lenders from their own network, before we post their loan publicly on the Zip website. Not only is this great from a risk management perspective, but we're also seeing it drive significant growth in lenders and loan volume, as borrowers 'pay it forward' by helping our marketing team in recruiting new lenders to the Kiva Zip movement!
3) Reducing fundraising times from 90 to 45 days. It's difficult to say for certain, but we believe that the policy shift we made in late 2013 to shorten the fundraising time of Zip loans has further contributed to the recent growth in loan volume. On Kiva Zip, borrowers do not receive any money if the loan doesn't reach its goal within the allotted timeframe, and so borrowers and lenders are compelled to "hustle" to get it done. On the Zip team, we've been inspired by success stories of borrowers like Julio, Rocio and Omar, who each raised thousands of dollars in the last couple of days of their fundraising periods!
4) $5 loan shares. We are not sure that the recent shift from $25 to $5 minimum loan shares has increased shares purchased or deposits, but we do believe that it is continuing to increase the number of new lenders willing to try out Kiva Zip for the first time.
Thanks to all of you for contributing to the growing momentum of the Kiva Zip program. Here's hoping we see continued growth of our collective impact through the remainder of 2014!