Meet Thomas, the 8th grade Kiva Zip super user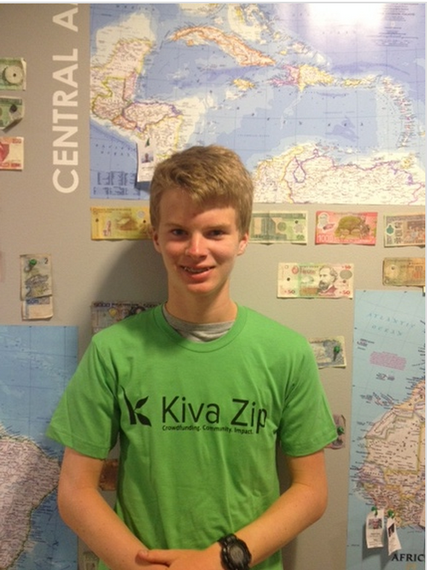 At an age when most kids are focused on playing video games, 13-year old Thomas Woodside is more interested in helping empower entrepreneurs on Kiva and Kiva Zip. Thomas is not only a Kiva power-user who has made over 160 loans on Kiva and Kiva Zip, but he is also an active blogger. On his blog www.kivaproducts.org , Thomas has built an online portal that directs people to the websites of many Kiva Zip borrowers so that they can purchase their different products!
Thomas first heard about Kiva while reading The International Bank of Bob , Bob Harris' 2014 book about Kiva. The book inspired Thomas to start making loans on Kiva.org, which only increased his interest in microfinance. Thomas then started a school project about microfinance, which led him to explore how it might be possible to lower microfinance interest rates through the use of technology and social underwriting. When he finally came across Kiva Zip a short while later, it was almost exactly what he was thinking up!
I sat down with Thomas last week to talk about his experiences with Kiva and Kiva Zip.
KZ: Thanks for taking the time to talk with me today Thomas. So can you tell me about some of your favorite aspects of Kiva Zip?
TW: I'd say my favorite part of Kiva Zip is the Conversations feature, which lets you actually speak to borrowers. With Kiva.org it's harder to follow up and know how the entrepreneurs you lent to are doing. With Kiva Zip, borrowers can give you updates, which is a great way of seeing how the loan helped them and staying in touch.
KZ: That's definitely true, I love having the ability to directly communicate with borrowers. So you said you've made 18 loans on Kiva Zip. Do you prefer lending to entrepreneurs in Kenya or the US?
TW: Usually I'll look for loans that are local, like Julianne, who runs Faerie Goatmother soaps in East Palo Alto [https://zip.kiva.org/loans/3019]. If there aren't any loans in my area, then I'll check for loans in Kenya. The loans in Kenya fund really quickly though, so if I can't find any in Kenya I'll lend to someone else in the US.
KZ: So I have to tell you Thomas, we were all really impressed with your blog linking to all the Kiva Zip borrower products. What inspired you to build a store for Kiva Zip borrowers?
TW: So I was actually inspired to start this store after lending to one of my favorite Kiva Zip borrowers, Winter, who makes this amazing maple syrup under the business name Mead and Mead [https://zip.kiva.org/loans/2671]. I really wanted to buy some of his maple syrup, so I looked up his store and made an order. I thought it was a little too hard to find the syrup online, and that there must be an easier way to help people find it. Once I started looking at past loans I had made, I noticed a lot of the entrepreneurs I had supported also had products for sale online. I decided that I could help make it easier for them to sell their products by putting the links to their stores in one place. I definitely recommend that all borrowers put their website in their loan profiles – it's a really powerful tool!
KZ: That's an amazing idea, and its awesome that you were able to put it together yourself so quickly! You're in middle school now, and heading into high school next year – is Kiva popular with kids in your age group?
TW: Within my friend group, I'm definitely the one that is most into Kiva. One great thing about Kiva Zip, though, is that it has $5 loans, which makes it more affordable to kids my age. I always try to get my friends to try lending on Kiva, so usually instead of getting birthday presents I'll just have everyone make a loan on Kiva. I think its a good way to help people, and that my friends really like it too.
KZ: Wow, that's really inspiring. So when you're not building awesome websites and lending on Kiva, what are some of your other interests and hobbies?
TW: In general, I'm really interested in science and community service. In my free time I participate in a program tutoring kids in disadvantaged neighborhoods, and my family and I often volunteers in SF Marin Foodbank.
KZ: Sounds like you stay pretty busy – keep up the good work! Thanks for taking the time to talk with me today!
TW: Anytime!
If you'd like to check out Thomas' website, visit: www.kivaproducts.org .