Meet the Kiva Zip Kenya Team: Fellows
Kiva Zip Kenya Fellows are based in Nairobi and spend four months working on scaling operations in Kenya and navigating their new backyard.
1. Shikha Dubey is our resident Roger Rabbit dancer and food enthusiast. She works on on-boarding trustees, specifically those that work with youth in Kenya to leverage this population that is often excluded from formal financing.
Background before Kiva Zip?
I was a Global Education Development Manager for Cisco systems.
What were you hoping to achieve at Zip as a fellow?
To learn first hand about the impact Kiva Zip is making in Kenya, especially how it's impacting the lives of borrowers and the communities they live in.
What are you passionate about?
Empowering women, education and contributing to sustainable solutions that impact not only individuals but also their families and communities.
4. Favorite part of living in Nairobi?
Being surrounded by the buzz of social entrepreneurship and social ventures. Everyone is trying to make an impact in some capacity!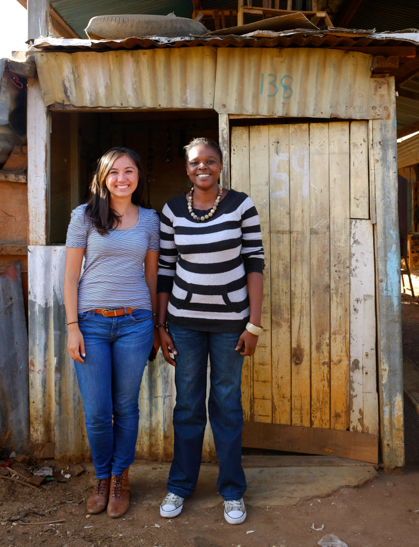 2. Tiffany Vlaanderen enjoys the team's nightly Beyonce music video marathons and developing Zip's digital strategy to reach more organizations and entrepreneurs in Kenya.
Background Before Kiva Zip?
I worked at Kiva headquarters on the Marketing & Communications team and ate my way through countless Nopalito excursions in San Francisco. Before joining Kiva, I played tag with hundreds of Japanese elementary and junior high students daily and more formally served as their foreign English teacher in a small seaside, agricultural town in Kumamoto prefecture. I also wrote for Forbes Indonesia which truly taught me that you could love what you do on a daily basis -- it's a feeling I'm continually fighting for.
What were you hoping to achieve at Zip as a fellow?
I wanted to gain experience working with our clients directly, gain a better understanding of what it takes to run our program on the ground and especially get my feet wet on a new continent. And of course, I wanted to see what microfinance could enable our clients to do with their livelihoods, if anything at all.
What are you passionate about?
After working with Kiva Zip, I've witnessed the gap between locally made products and their scale on the continent and beyond. I'm very interested in the workmanship of artisans and how we can work to bridge their access to market for their products. I've always had a penchant for all things well crafted -- whether it's prose, a beautiful brass cuff or even a loan product. How do we work to create a marketplace where these skill sets can be best used: be profitable and create beautiful designs?
Favorite part of living in Nairobi?
Nothing makes me happier every day than taking in Nairobi while on the back of my driver's boda, a term for motorcycle taxi with origins in the need to transport people across the "no-mans-land" between the border posts of Uganda and Kenya. Something about the experience allows me to pay attention to the sights around me and feel the day's weight - debris, heat and all, on my skin. Though I will note no one in Nairobi will advise you to ever use this mode of transport.