Kiva Zip's Focus on Small Farms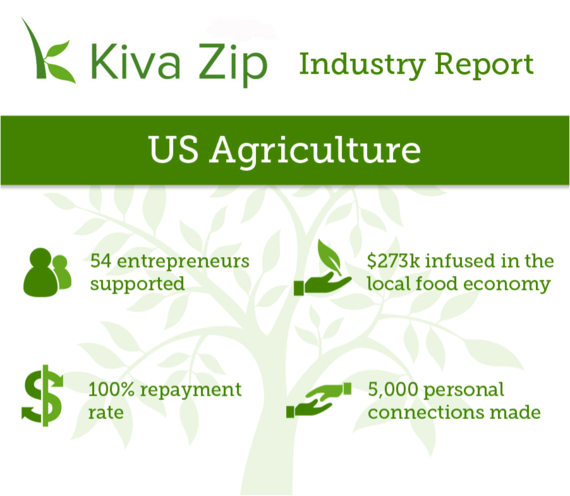 On the Kiva Zip team we are dedicated and focused on growing our impact among small farmers. We believe they are leading an important movement towards healthy and sustainable communities.
Quality Indicators
There are two key quality indicators that we look at when evaluating our borrowers: (1) the fundraising speed and (2) the repayment rate.
(1) Funding Rate
Every farmer has successfully funded on Kiva Zip. The average funding rate for farmers is around 15 days, whereas the average for all industries is 35 days. We attribute this to the explicit social impact that our lenders believe farmers deliver to their communities.
(2) Repayment Rate
Across the 77 farmers we have supported since the launch of Kiva Zip, we have maintained a 100% repayment rate.
As a result of these very encouraging data points, we have increased the loan amount that farmers can apply for -- up to $10,000.
Our Network of Trustees
I'm particularly encouraged by the partnerships that we are fostering around the country. We have national farmer networks, grocery stores, farmers' markets, food associations, farming coalitions, farm lenders, plant nurseries, tech companies….the diversity of these trustees is extremely exciting.
Some of our best trustees are exclusively focused on growing and investing in the local food movement in their communities. While they manifest that vision in different ways, they are all aligned with Kiva Zip's mission to empower and support financially excluded and socially impactful entrepreneurs.
Some trustee partnerships I am particularly excited about include:
Greenhorns – a network of farmers whose mission is to recruit, support, and promote the new generation of farmers in America. As one of our first trustees, they have supported 7 entrepreneurs, raised $40,000, and maintained a 100% repayment rate.
Good Eggs – a technology platform whose mission is to grow and sustain local food systems. Their offices in Brooklyn, New Orleans, Los Angeles and San Francisco have all signed up as trustees on Kiva Zip and endorsed entrepreneurs in their communities.
Central Arkansas New Agrarian Society (CANAS) – a coalition of "do-gooders", farmers, and gardeners that aims to cultivate urban agriculture in Central Arkansas. With the help of CANAS we have supported nine farmers in Arkansas funneling over $75,000 of capital into their local food economy.
I leave you with a farmer that is currently fundraising right now, Brad, with Goosefoot Farm in Fairbanks Alaska. A Kiva Zip loan will allow him to improve the infrastructure at his farm. Even in the most remote areas of the country, we are supporting farmers growing their local food economies, and we're excited to continue to increase our impact in this area.