Pittsburgh Mayor's Office Utilizes Kiva Zip to Continue Building Economic Growth
In late May, Kiva City Pittsburgh kicked off a partnership with Pittsburgh Mayor Bill Peduto's office with the first of a series of six information sessions. Kiva City Pittsburgh is a local initiative created by Kiva.org --a San Francisco based nonprofit that helps facilitate crowd funded micro-loans at 0% interest through its online Kiva Zip program. Each session will explain how individuals and organizations can identify and endorse entrepreneurs for Kiva Zip micro-loans by serving as Trustees. Together, Kiva City Pittsburgh, Mayor Peduto and local Trustees will help to foster businesses and reinvigorate Pittsburgh's underserved communities.
Emily Keebler, Kiva City Pittsburgh Lead, and Henry Pyatt, the Small Business and Redevelopment Manager in the Bureau of Neighborhood Empowerment at the City of Pittsburgh headed the first session which was hosted by Tech Shop Pittsburgh in Bakery Square. In attendance were past borrowers and both current and prospective trustees-- including representatives from social service agencies, Rotary Clubs and the local chapter of SCORE.
Henry Pyatt, who has been charged with neighborhood revitalization, began the information session for potential Kiva Zip trustees with an emphatic statement, "Kiva gives neighborhoods the resources to realize their dreams."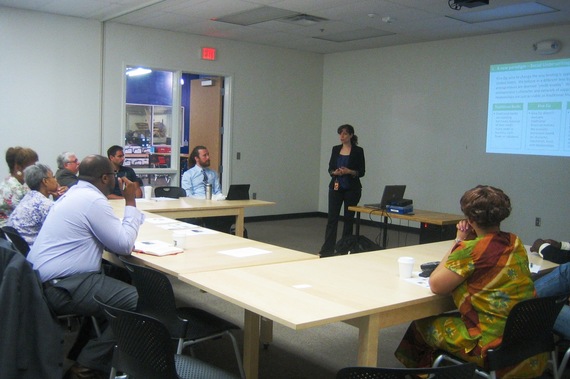 Representatives from two Kiva Zip trustees, Christian Evangelistic Economic Development (CEED) and Operation Better Block (OBB), reinforced Mr. Pyatt's belief by sharing how they utilized Kiva Zip to help catalyze change in underserved communities.
Emmanual Afrifa, Microloan Officer at CEED, said that "[CEED and Kiva Zip] are able to encourage borrowers, as well as give them the opportunity to support their growing business while strengthening their ties to the communities." Adding that it is when organizations and individuals who are "entirely dedicated to helping people succeed that neighborhoods can flourish."
Mr. Afrifa introduced Leslie Parr, owner of Shining Stars Creative Childcare and Learning Service in Wilkinsburg, who CEED endorsed for a $5,000 loan which was disbursed in November 2013. Parr felt that CEED's support, including the endorsement for a Kiva Zip loan, "was a God send" for her small business.
Jerome M. Jackson, Executive Director of Operation Better Block in Homewood, pointed out an additional benefit that Kiva Zip offered to their neighborhood, and may apply in other cases. The business that OBB endorsed, The Wheel Mill, provides a safe, indoor place for kids and adults to ride BMX bikes. Many other businesses provide recreation or "third spaces" where community members can come together. According to Jackson, the investment of as little as $5 by both Pittsburgh and non-Pittsburgh lenders towards this community-centric business created a space where "kids and young people have a chance to become involved in their community."
Kiva City Pittsburgh includes 20 trustees in the Pittsburgh area which have endorsed new and existing entrepreneurs. The twenty trustees include business development non-profits, community development corporations, co-working spaces, and individuals with a strong business background. They play a vital role in Kiva Zip's unique lending model, which determines prospective borrowers based on their character rather than on their credit score. Trustees, who bear no financial or legal responsibility for the loan, publicly stake their reputation on behalf of the borrower on the website.
Help small businesses in your community by becoming a trustee. Contact Emily Keebler, Kiva City Pittsburgh Lead, at emily.keebler@fellows.kiva.org, for details on next month's trustee information session and follow this link for more info on becoming a trustee with Kiva Zip.