Managing Risk through Innovation, Part 1: Delinquency Management
by Daniel Jung and Sarah Tait
This is Part 1 of a three part series on Kiva Zip's risk management philosophy, policies, and procedures. Part 1 covers delinquency management. Part 2 will cover our borrower and Trustee review process. Part 3 will cover how lenders can participate in risk management.
Kiva Zip aims to expand access to capital for entrepreneurs that have been locked out of the traditional financial system. By providing microloans to small businesses that even microfinance institutions (MFIs) often deem too risky, we've lent to borrowers who were unable to fund a promising start-up, denied funding because of minimal credit histories, or needed to turn to self-employment after losing their jobs.
We believe the social impact of Kiva Zip has been enormous, and we've been able to achieve this by relying on social underwriting - borrowers enlist Trustees to vouch for their business and character. While this model has shown great promise in reaching financially excluded populations, overcoming the increased risk of this new lending model has proven to be a tough challenge.
Delinquency Management - Transparency and Experimentation
One of the most common questions we receive is how we address borrowers that are not paying back on time. All financial institutions are wary of the many risks involved in lending, and Kiva Zip is no different.
Our first step is to be as transparent as possible.
For borrowers and Trustees, we set the expectation that the borrower must repay in full even if his or her business fails. We do not allow borrowers to walk away from their Kiva Zip loan by declaring bankruptcy. In addition, borrowers and Trustees must complete a profile for our website where their picture and business credentials are displayed to our lender base. We link to the business' website and social media when available, thereby tying the performance of the loan directly to the reputation of the business.
For lenders, we make sure that everyone understands the increased risk that comes with lending on Kiva Zip. We show our repayment rate, significantly less than Kiva.org's 99%, on our homepage. We disclose the riskiness of our loans prominently on our lender sign-up page, and in our FAQs and Terms of Use, to communicate that Kiva Zip is highly experimental and much riskier than Kiva.org.
Our second step is to experiment aggressively and to collect data rigorously.
When Kiva Zip first started in November 2011, our team had almost no experience in delinquency management. On the Kiva.org website, field partners maintain relationships with borrowers and are ultimately responsible for repayments. Without being able to rely on field partners, the Kiva Zip team has taken an iterative approach to developing ways to deal with delinquencies in an efficient and ethical manner.
United States
In the US, 56 out of 261 borrowers who are repaying their loans are currently delinquent. Over 80% of those delinquent borrowers are still making payments. This usually indicates that the borrower fully intends on repaying the loan but has faced technical difficulties or temporary cash flow problems. An advantage of Kiva Zip loans is that because they are 0% interest, borrowers do not fall into deeper levels of debt as they miss repayments. It's been enormously helpful to many of our borrowers that have gone through seasonal challenges, have faced family or medical emergencies, or are waiting for payments from large purchase orders.
The relatively small number of delinquent borrowers in the US allows for our team to take a hands-on approach to delinquency management. We reach out to every single delinquent borrower on a weekly basis for updates. With borrowers that are consistently delinquent, we try to stay in direct contact through emails, social networks, phone calls, and text messages, though we've found that communicating through social networks and text messages is most effective. We encourage borrowers to update their lenders with context around their delinquency, and enlist Trustees to help borrowers manage their cash flows.
Kenya
In Kenya, 155 out of 424 borrowers who are repaying their loans are currently delinquent. We believe this greater ratio of delinquent loans can be attributed to the fact that repayment terms for Kenyan loans are shorter and have weekly repayments. Because our Kenyan borrowers typically have sporadic cash flows, it is not unusual for them to fall delinquent multiple times and still recover. Again, the 0% interest loan has helped to keep delinquent borrowers repaying in full.
With this high ratio of delinquent loans and our limited resources, in addition to the logistical difficulties of operating in Kenya, the Kiva Zip team does not always follow up directly with these borrowers. Rather, our team has established a system of automated text messages that reminds borrowers of their obligations and incentivizes them to repay. We do, however, stay in close contact with Trustees. Trustees are required to reach out to any borrower who is more than 3 weeks delinquent and to submit an action plan that re-commits the borrower to repaying the loan over a longer time frame.
Measuring Progress
Even though delinquency management has been an enormous challenge, we have witnessed steady improvement. In Kenya, the repayment rate has risen to over 91%, and in the US, the repayment rate has stabilized around 85%.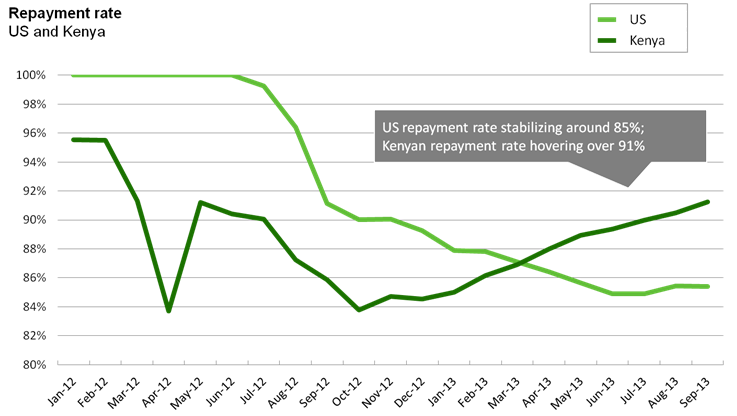 Looking Forward
We believe our efforts have the potential to revolutionize financial services across the world. In almost every lending institution, delinquency management can be a time-consuming and expensive process. Often times, banks and other lenders resort to unfair methods of collecting money from their clients, or sell debt to collection agencies that have no incentive to respect the borrower's privacy or property. Developing ways to use technology to cut the cost of delinquency management and increase its effectiveness is one the most important ways in which Kiva Zip can have a major impact.
We have disbursed over 1,000 loans to borrowers who would have never have had the chance to grow their businesses otherwise, and we are only going to improve. The Kiva Zip team has learned so much over the past two years, and those lessons have the potential to help millions of small business across the world. While Kiva Zip offers a riskier product, we are continuously improving our processes so that a much greater reward can be gained.