Shortening the Expiration Term on Kiva Zip
Since the launch of Kiva Zip, we have allowed loans to fundraise for 90 days on the site before they "expire". Over the next couple of weeks, we'll be reducing that time limit to 45 days.
On Kiva Zip, when a loan expires, we refund lenders, and the borrower does not receive a loan. Over the last two years, with a 90 day fundraising period, there have been very few expirations on Kiva Zip – in fact, only 10 out of over 1,600 loans posted have expired (less than 1%). We expect that shortening the fundraising period from 90 days to 45 days will increase the number of expirations we see on Kiva Zip, especially in the case of larger loans. So why would we change this policy? For a couple of principle reasons:
First, we expect that shortening the fundraising period will accelerate the velocity of lending on Kiva Zip. As you can see from the chart below, the average loan fundraises relatively quickly immediately after it is posted to the Zip website and then extremely quickly toward the end of the fundraising period, as the expiration date approaches. But there is a long lull of about 45 days in the middle of the fundraising period, where there is very little lending activity.
By removing this middle 45 days, we hope that we can compress this cycle and fund more loans more quickly as a result. Enabling Kiva Zip entrepreneurs to access the capital they need to invest in their business in 45 days rather than 90 days could make a significant positive difference in many cases – for example, if the borrower has a short-term financial opportunity, which they need to act quickly to realize.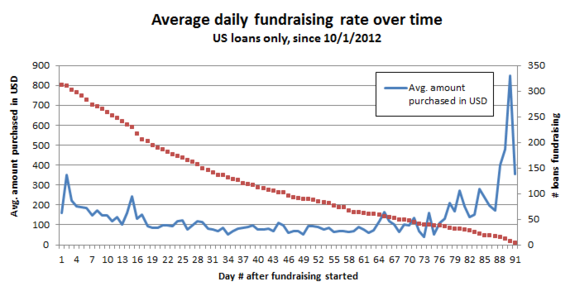 Second, we believe that expirations can have a number of positive outcomes for the Kiva Zip program, as long as they occur in moderation. Perhaps most important, we believe that lenders are good assessors of the riskiness of loans. Kiva Zip is still in its early days, but the data appear to bear out this hypothesis, too – our analysis to-date has shown a strong correlation between the number of lenders that fund Kiva Zip loans and their repayment rates. So if a loan expires, it might be because the wisdom of the crowd has cause to question the borrower's commitment or capacity to repay.
We also think that the threat of expirations will incentivize borrowers (and trustees) to maintain a high quality of loans – for example, by taking a good photo that clearly shows the borrower and his or her business, writing a compelling story, or including links to the borrower's website or Facebook page. Finally, we hope that expirations will occasionally prevent loans from fully funding if the Kiva Zip lender community collectively decides that the borrower doesn't really need the money or that the loan won't have the desired positive social impact.
While we do expect to see an increase in expirations as a result of this policy change, we expect that increase to be small. We currently envisage a ceiling of around 10% for expirations. If that number starts to climb too high, we may look to revisit this policy or find other ways to increase fundraising rates.
We believe that this rate of loans fully funding compares favorably to other crowd-funding platforms, and for financially excluded and socially impactful entrepreneurs looking for small amounts of capital to launch or grow their business, Kiva Zip presents a great option.
As always, we'd love the feedback of lenders, borrowers and trustees on this policy change. Feel free to write a comment on this blog below or email us at ContactZip@kiva.org.