Follow Kiva Zip on Twitter!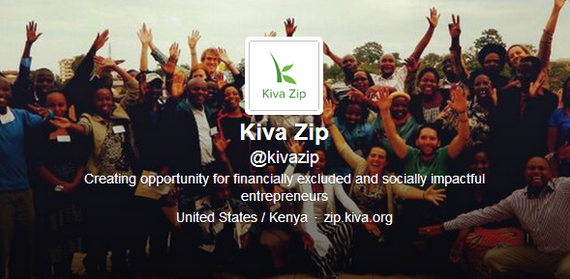 Last week Kiva Zip created a Twitter account. We are more than excited to finally join the social media world and communicate with our trustee, borrower and lender bases via this medium.
What to expect:
Our goal for Twitter is to keep followers updated on loans posted to Kiva Zip and borrower and trustee activities in general. We will include updates and news surrounding the world of micro-finance and person to person lending and keep followers connected to our fellows in the field.
This year we have a total of 16 fellows in 12 cities to help expand the Kiva Zip family and they will be keeping us updated on their adventures via Twitter and various other social media outlets.
Benefits to the Zip community:
We see social media as a mutually beneficial tool. Not only can we update our community we can help borrowers spread the word about their business endeavors, possibly convert lenders into customers, fund loans faster, and give Trustees another way to showcase the impact they are making in their communities.
This is a huge opportunity for us to engage with our community at all points during the funding process and we are excited to see more loans, more lenders, and more goals being reached!
In the meantime follow us @kivazip and see what we've been up to!